Full mouth makeover can be a solution to bring back your beautiful smile. Teeth are an important
part of our life. They give us power and confidence to smile, speak, and communicate with other
people. If you feel that your dental health has hindered your life, confidence, and job performance,
maybe it is time to consider getting a makeover for your teeth.

What is Full Mouth Makeover?
Full dental makeover is a procedure to restore the overall functions of your teeth. A person who needs
to get a full dental reconstruction usually experiences serious dental issues, such as tooth decay, gum
disease, and severe tooth loss. Even though restoring the function is the main goal of this procedure,
improving the health and look of your teeth is also the result that you will get from the reconstruction.

Should You Get a Full Mouth Makeover?
Full dental reconstruction may seem scary, but it is a helpful and necessary procedure for those with
severe dental problems. Please remember that this procedure is a bit similar with a smile makeover.
Smile makeover is an aesthetic procedure. Consequently, its main benefit is improving the look of
your teeth and the amount of teeth that need to be done is less than full mouth makeover, with Full mouth makeover you also get the esthetic result but on the other hand, full dental makeover is more suitable for those whose dental functions have been impaired. So, if you have decayed teeth, biting and chewing problems, gum infection, or bruxism, this is the right procedure for you.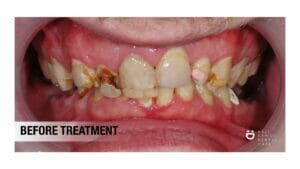 The dentist will examine your mouth to find out what treatment or full reconstruction will benefit you
the most. Here are some of the treatments that you may get:
· Dental Implants
This is a very common procedure that involves tooth replacements. The dentist will put a titanium
post in your jaw that will become the new root for your tooth implant.
· Orthodontics
This treatment is administered to restore bite function. The dentist will do a surgical procedure to
realign your jaws so that your teeth can be straighter. Jaw and teeth realignment will not only
help you bite and chew, but also reduce the risk of tooth decay and gum problems.
This procedure can be expensive. As a result, many people choose not to get it. But if you have a bad
dental condition, postponing treatment might worsen your condition.
· Crowns and Veneers
This treatment is the majority procedure from full mouth makeover or reconstruction. Most of the cases with your teeth can be fixed with this crowns or veneers. Normally the dentist will have cooperation with dental laboratory to produce the porcelain crowns or veneers that you will have at the end of the treatment.

If you want to get this makeover but you are looking for a cheaper option, you can go to Bali Family Dental Care. Not only
is the price cheaper, the dentists are professional and experienced. You can even get a Bali dental
holiday package so that you can get a full mouth makeover and enjoy a holiday at the same time.
Check our portofolio to see the end result of the teeth above : https://balifamilydentalcare.com/our-works/